The HIDDEN TAILOR by FLEX-BELT
The Original! Made In USA
The "Hidden Tailor" by Flex-belt Keeps Your Wardrobe Looking Crisp and New!
The comfortable way to look great!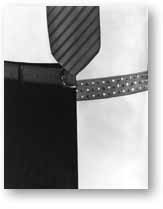 The "HIDDEN TAILOR" easily fits over the shirttail and inside the trousers, just below the waistband. Simply stretch "HIDDEN TAILOR" about one inch, then fasten with our quick-attach button."HIDDEN TAILOR's" exclusive design keeps pants up where you want them and your shirt neatly inside where it belongs!
Designed to lay flat with the nubs facing out, when putting on the belt stretch it about 1-2", then push the button thru any of the center holes. Once the belt is adjusted to your liking, then step into it like putting on a pair of pants!
The Hidden Tailor Flex Belt is manufactured with natural high quality elastic and provides a comfortable and custom-tailored look.